Making A Marketer - "Facebooks The Good place + Ads Educations + Subject Line of Duty"
The ultimate marketing training from our very own marketing manager!
Ever wished you could hire a 6-figure marketing manager to maximise your impact?
Don't!
Just borrow our girl, Ayse!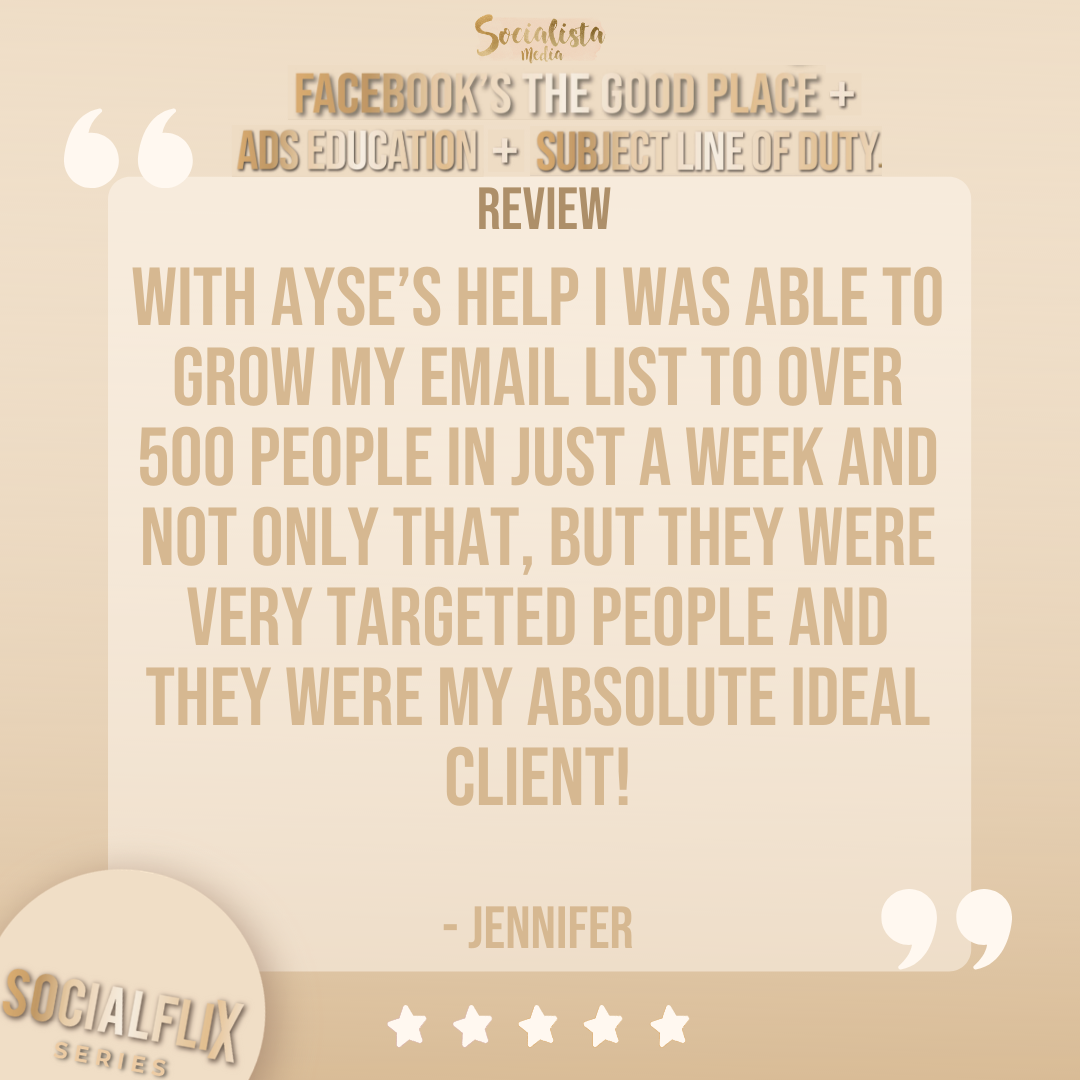 I was able to grow my email list to over 500 people in just a week, not only that, but they were very targeted people and they were my absolute ideal client.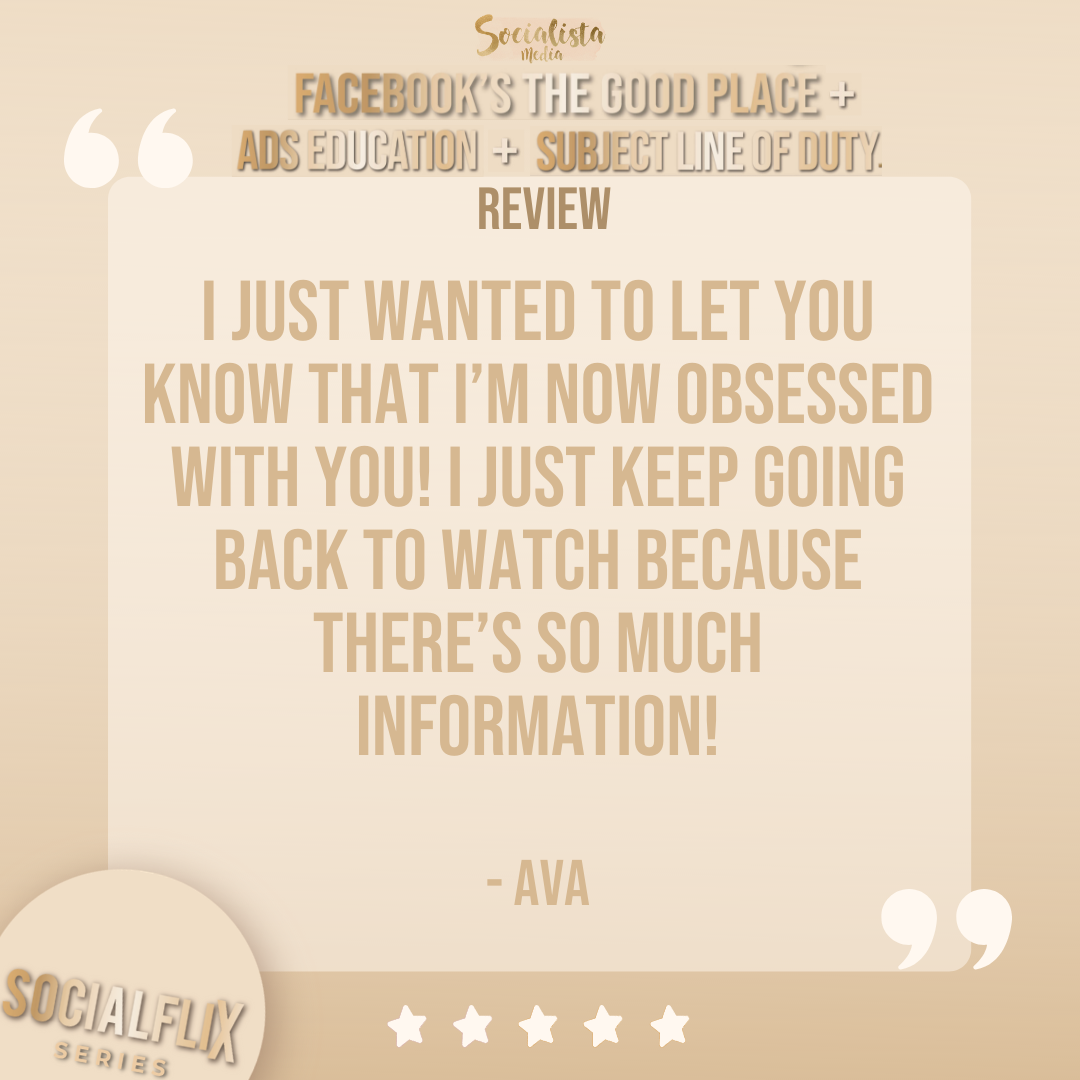 I'm now obsessed with you! I just keep going back to watch because there's so much information!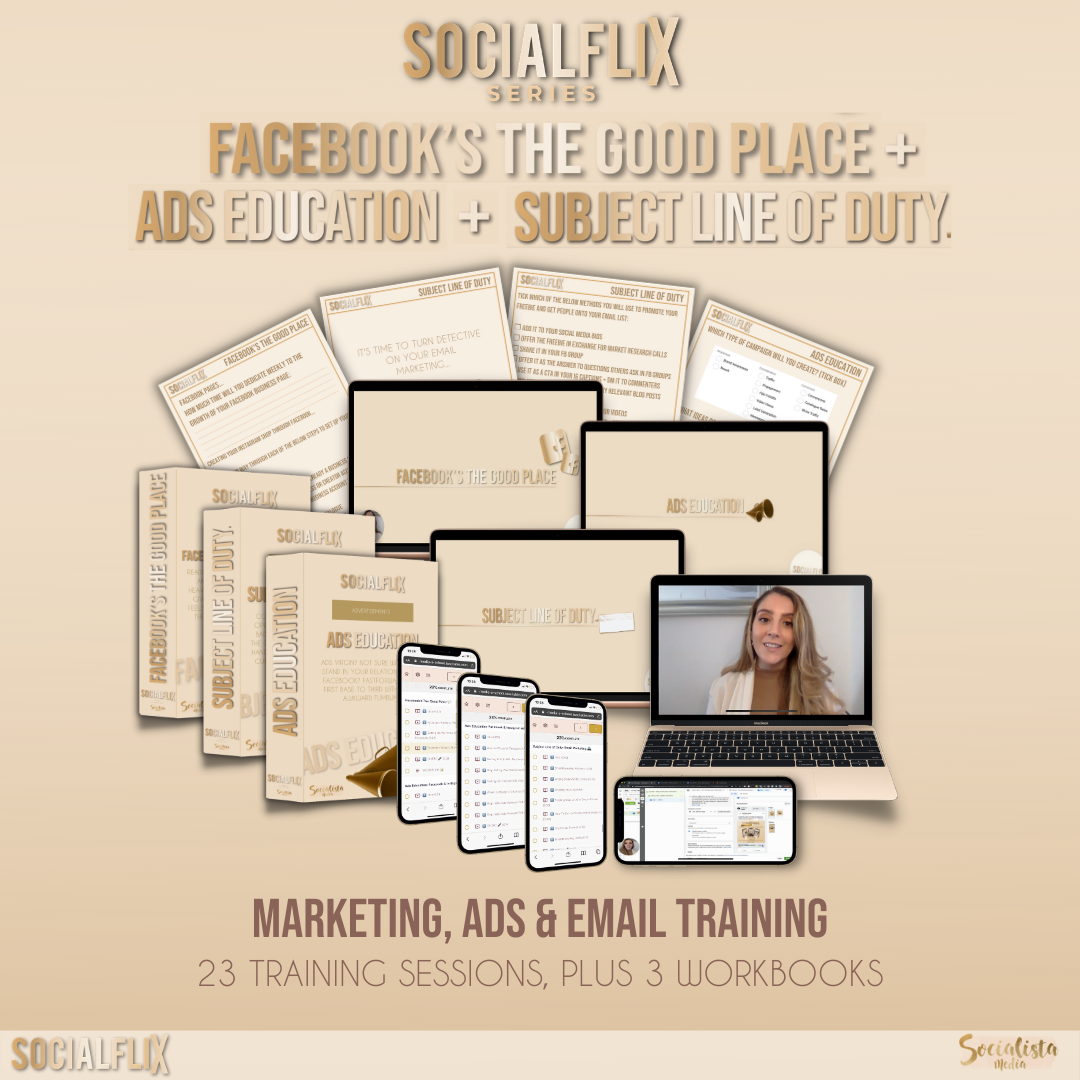 In this jam packed bundle, you'll learn the email, ads and Facebook tips that we use to create 6-figure months and multi-six-figure years… oh and 6-figure launches again and again!
🚫 Ads got you in a spin?
🚫 Email open rates on the go-slow?
🚫 Facebook group engagement at an all-time low?
Ayse, director and founder of Surge Social, has got your fix!
Inside your bundle:
Subject Line Of Duty 🚔
Email Marketing Expert Training
👉 How to use the most popular platforms
👉 How to write open-worthy emails
👉 How to build your list ASAP
👉 How to automate sequences
And give your email marketing the WOW factor!
Ads Education 🍆
Facebook Ads Expert Training
👉 How to boost posts vs running ads
👉 How to set up and run your first ad campaign
👉 How to test you campaigns to save coin
And how to be your own ads manager!
Facebook's The Good Place 💬
How to run the perfect Facebook community
👉 Creating your beautiful business page
👉 Setting up your Insta shop
👉 Running and maximising a magical Facebook group
💰 £197.00 💰
Don't stress and struggle through the seemingly endless options when it comes to DIY marketing. Grab three trainings on the top three ways to give your presence the VIP treatment.
🤔 Are you ready to step into your next level?
🤔 Are you ready to maximise your marketing?
🤔 Are you ready to have a 6-figure marketing expert on your team?
Of course you are, superstar!
👇
💰 £197.00 💰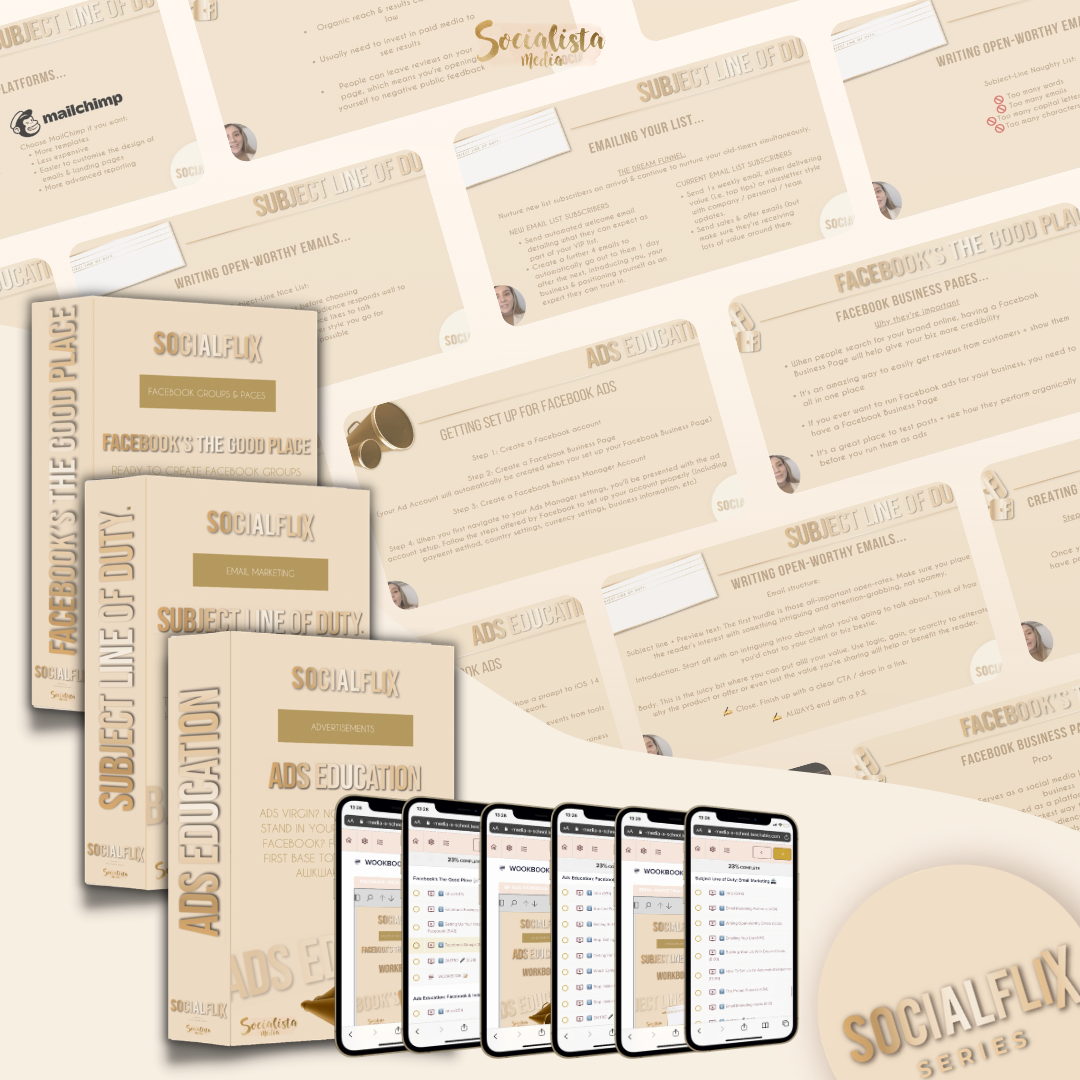 Take a sneak peak inside...
Available in days

days after you enroll

Facebook's The Good Place 💬
Available in days

days after you enroll

Ads Education: Facebook & Instagram Ads 🍆
Available in days

days after you enroll

Subject Line of Duty: Email Marketing 🚔
FAQ'S
WHAT FORMAT IS THE TRAINING IN?
Your trainings are delivered via Teachable in your very own course portal. Track your progress and work through the videos at your own pace. Each video is short and sweet, enabling you to learn fast and implement even faster!
IS THERE A WORKBOOK?
Yes! Download, save or print your workbook to come back to later. Follow along as you watch your videos to make sure you get the most out of your training.
HOW LONG DO I HAVE ACCESS FOR?
I'm so glad you asked! Access is lifetime! So you can jump in and refresh your memory whenever you need to.
HOW DO I KNOW THIS IS RIGHT FOR ME?
Marketing is where the big bucks are called in! If you're running your biz day-to-day but you want to make the most of your time, maximise your money with epic marketing! Ayse, our marketing manager, is spilling the beans on the 3 most effective ways she's grown our audience and turnover, so you can too!
WILL THIS TRAINING BE UPDATED?
Yes! Just like the core Socialflix course, we'll also update this individual series with the latest content, social media and algorithm changes.