INSTAGRAM TRAINING - "INSTAGRAM BELOW DECKS"
With Anna (proudly followed by over 67,000 accounts!)
Our 'basic' Instagram training… that's just not that basic 😉
 Apps, insights, ads, highlights, reels, guides, lives… there's so much to think about!
Instagram is the way to grow your business and boost your sales (as well as build a highly coveted personal brand)... but where do you start?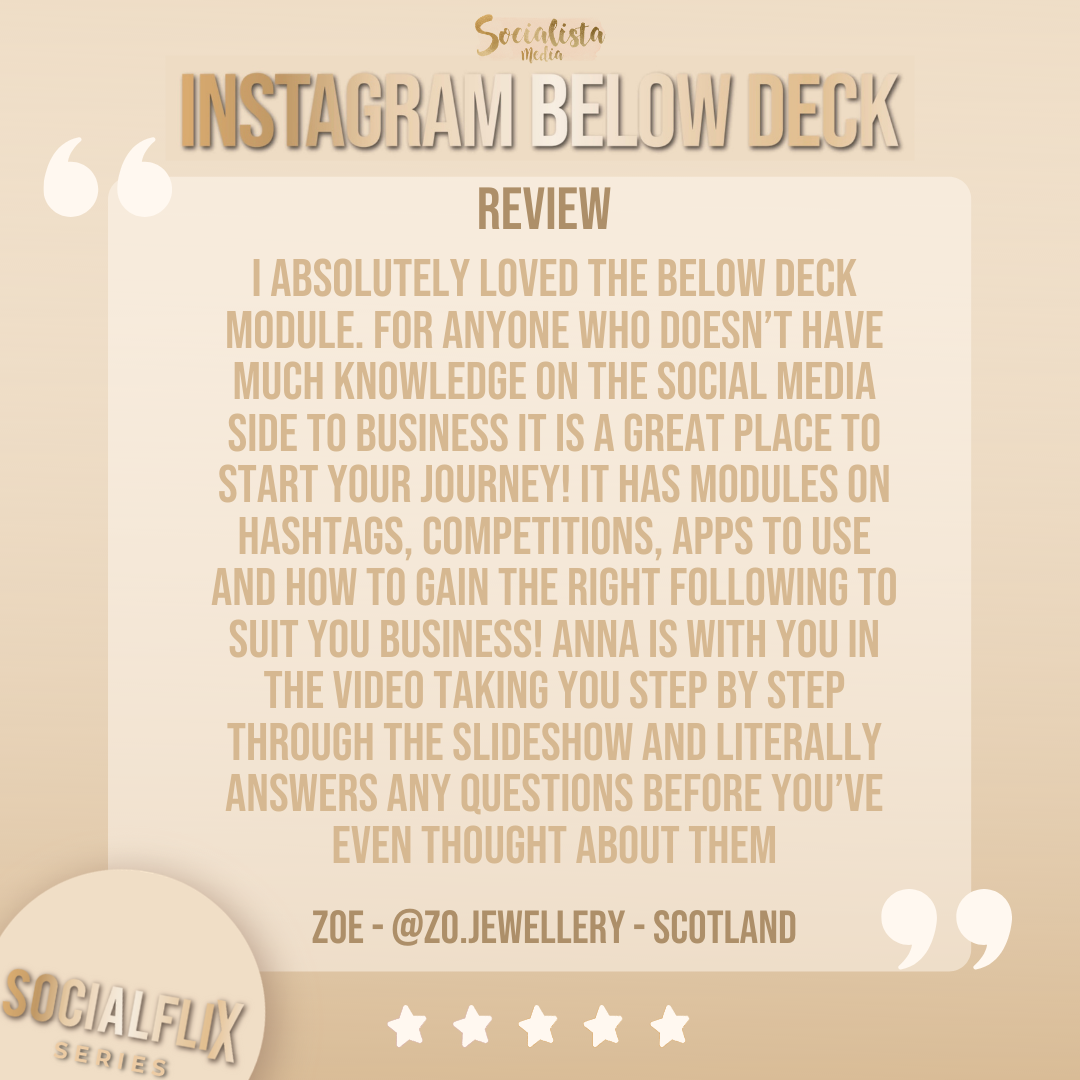 For anyone that doesn't have much knowledge on the social media side to business it is a great place to start your journey! It has modules on hashtags, competitions, apps to use and how to gain the right following to suit your business!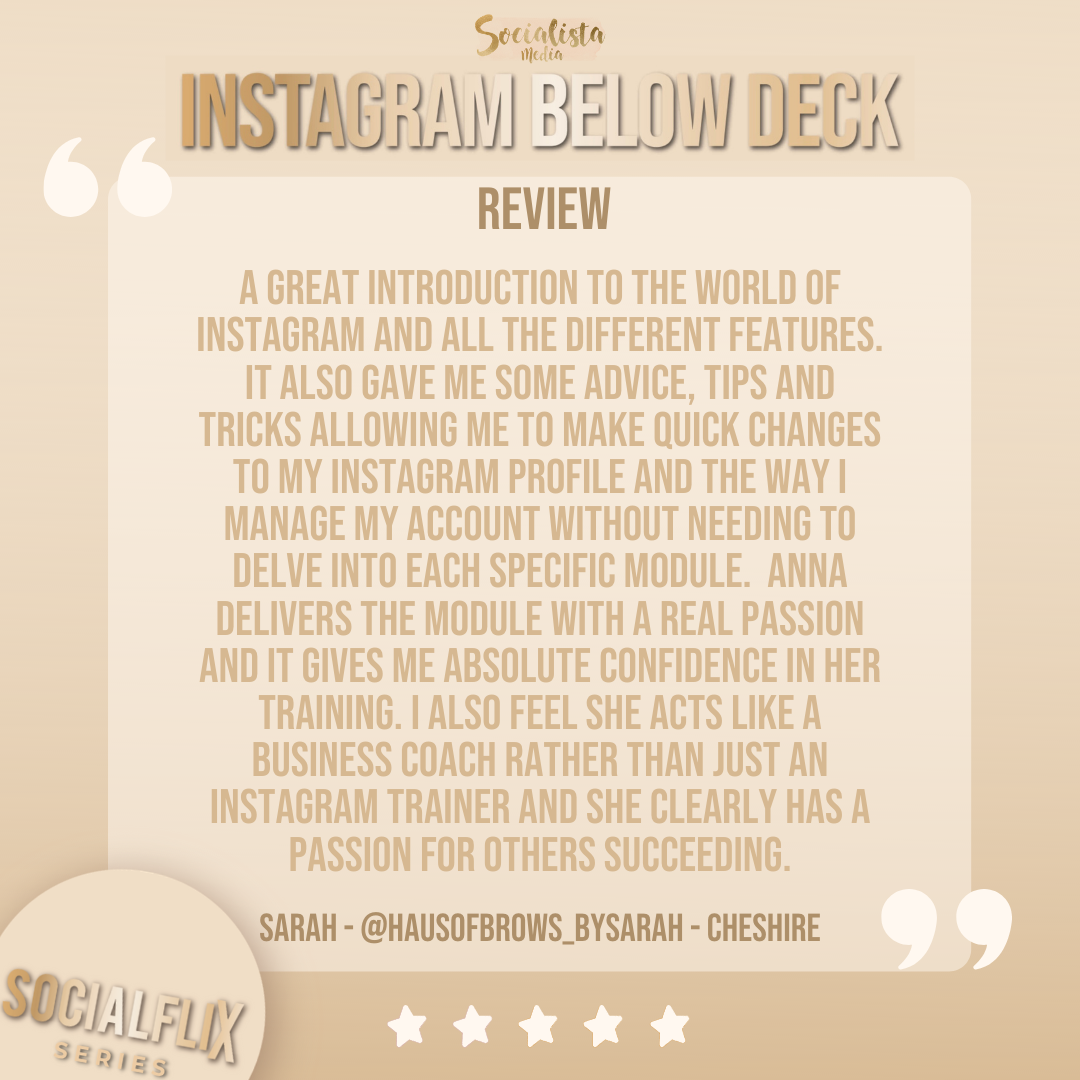 A great introduction to the world of instagram and all the different features. It also gave me some advice, tips and tricks allowing me to make quick changes to my instagram profile and the way I manage my account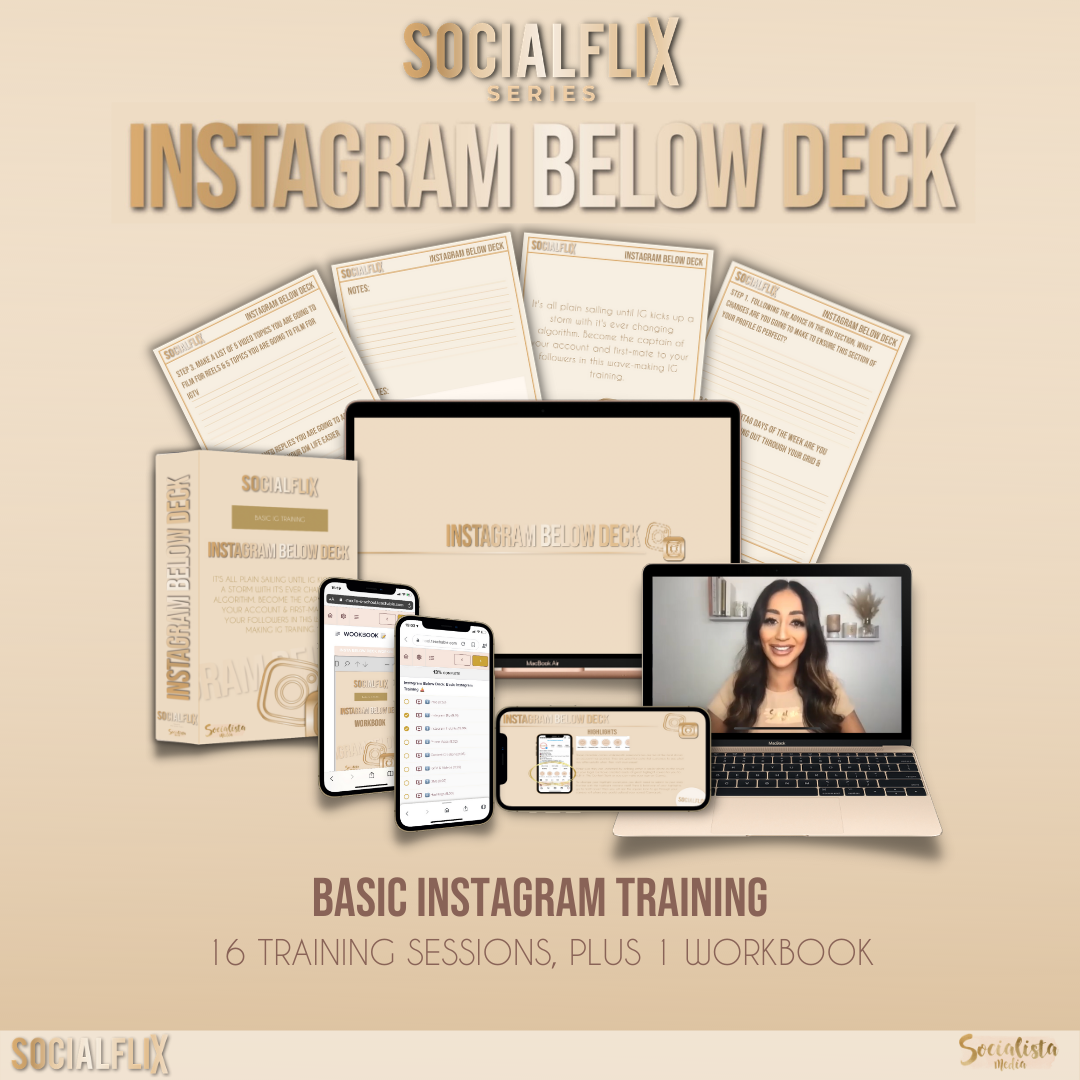 💭 Feel like your IG strategy is more 'getting by' than flying high?
💭 Find yourself muddling your way through new content types without a clue how to leverage them?
💭 Looking at your feed and wishing it looked a bit more 'on brand'?
💭 Want to grow your audience with ideal clients, not just friends and family?
No problem!
Look, Instagram overwhelm is not unusual.
Right now, you're the business owner, content manager, photographer, copywriter, marketers, sales person and operator… no wonder Instagram's got you stumped!
But that's why you need these 15 bitesize trainings to up your game and leave overwhelm in the dust. 
💰 £97.00 💰
Take a sneak peak inside...
Available in days

days after you enroll

Instagram Below Deck: Basic Instagram Training ⛵
Here's what you'll be learning inside…


👉 How to write your bio
👉 How to get down with your Insights
👉 The apps you need to nail your feed
👉 How to create hot content
👉 How to produce IGTV's and video content
👉 How to convert in the DM's
👉 How to score with hashtags
👉 How to sell on stories
👉 How to create (and stick to) a recognisable theme
👉 How to run successful Instagram ads
👉 How to host a competition
👉 How to create and save beautiful highlights
👉 How to make 'guides'
👉 PLUS everything you need to know about getting new followers!
Don't be shy!
Let's go below deck and give you the Instagram initiation you need to set sail!
👇
💰 £97.00 💰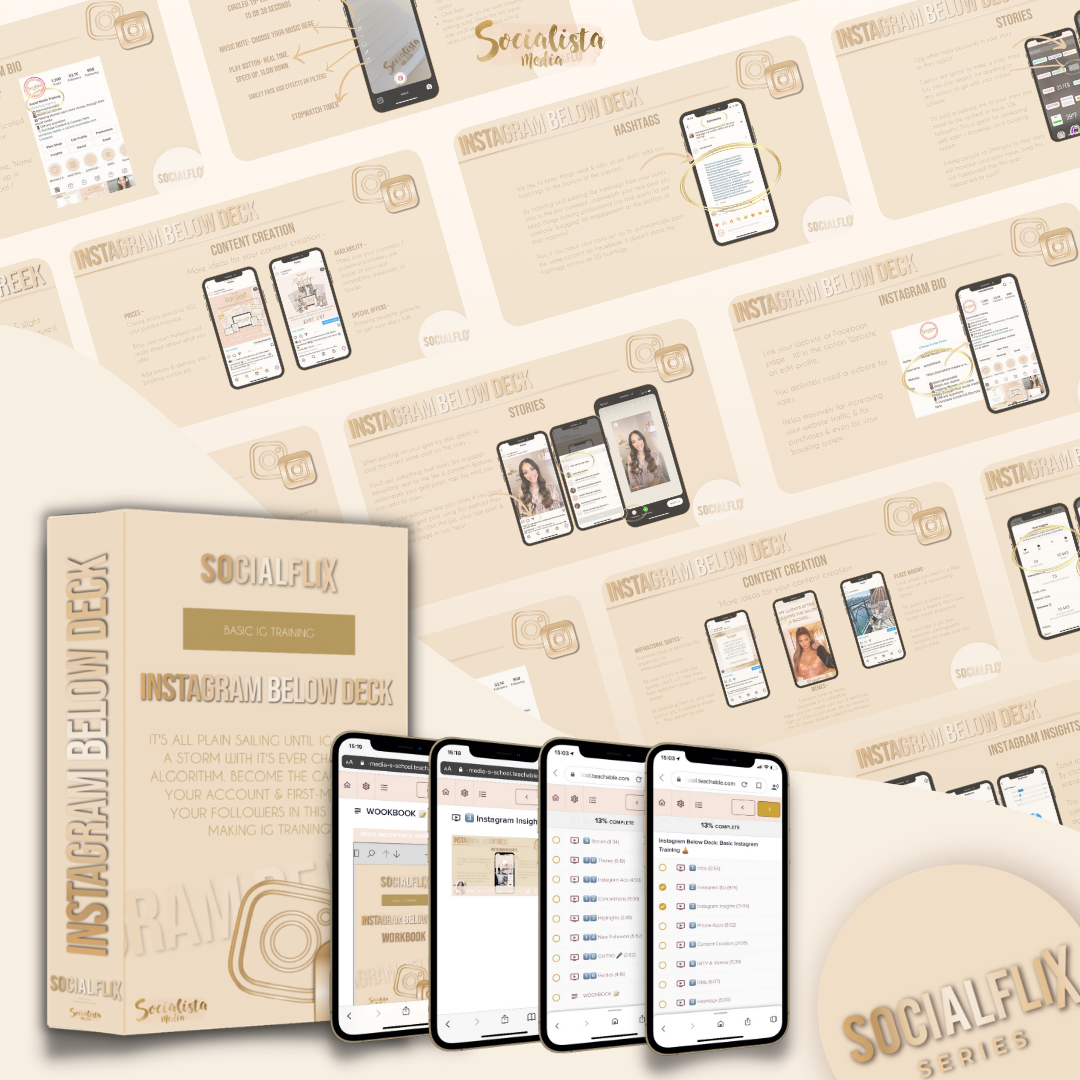 FAQ'S
WHAT FORMAT IS THE TRAINING IN?
Your trainings are delivered via Teachable in your very own course portal. Track your progress and work through the videos at your own pace. Each video is short and sweet, enabling you to learn fast and implement even faster!
IS THERE A WORKBOOK?
Yes! Download, save or print your workbook to come back to later. Follow along as you watch your videos to make sure you get the most out of your training.
HOW LONG DO I HAVE ACCESS FOR?
I'm so glad you asked! Access is lifetime! So you can jump in and refresh your memory whenever you need to.
HOW DO I KNOW THIS IS RIGHT FOR ME?
Whether you're new to Instagram or you're struggling with how much there is to do with your account, these trainings will take you through everything you need to know, top to bottom. Whether it's understanding how to use business insights, or what the heck to do with hashtags, you'll be IG confident in 15 module's time! 
WILL THIS TRAINING BE UPDATED?
Yes! Just like the core Socialflix course, we'll also update this individual series with the latest content, social media and algorithm changes.