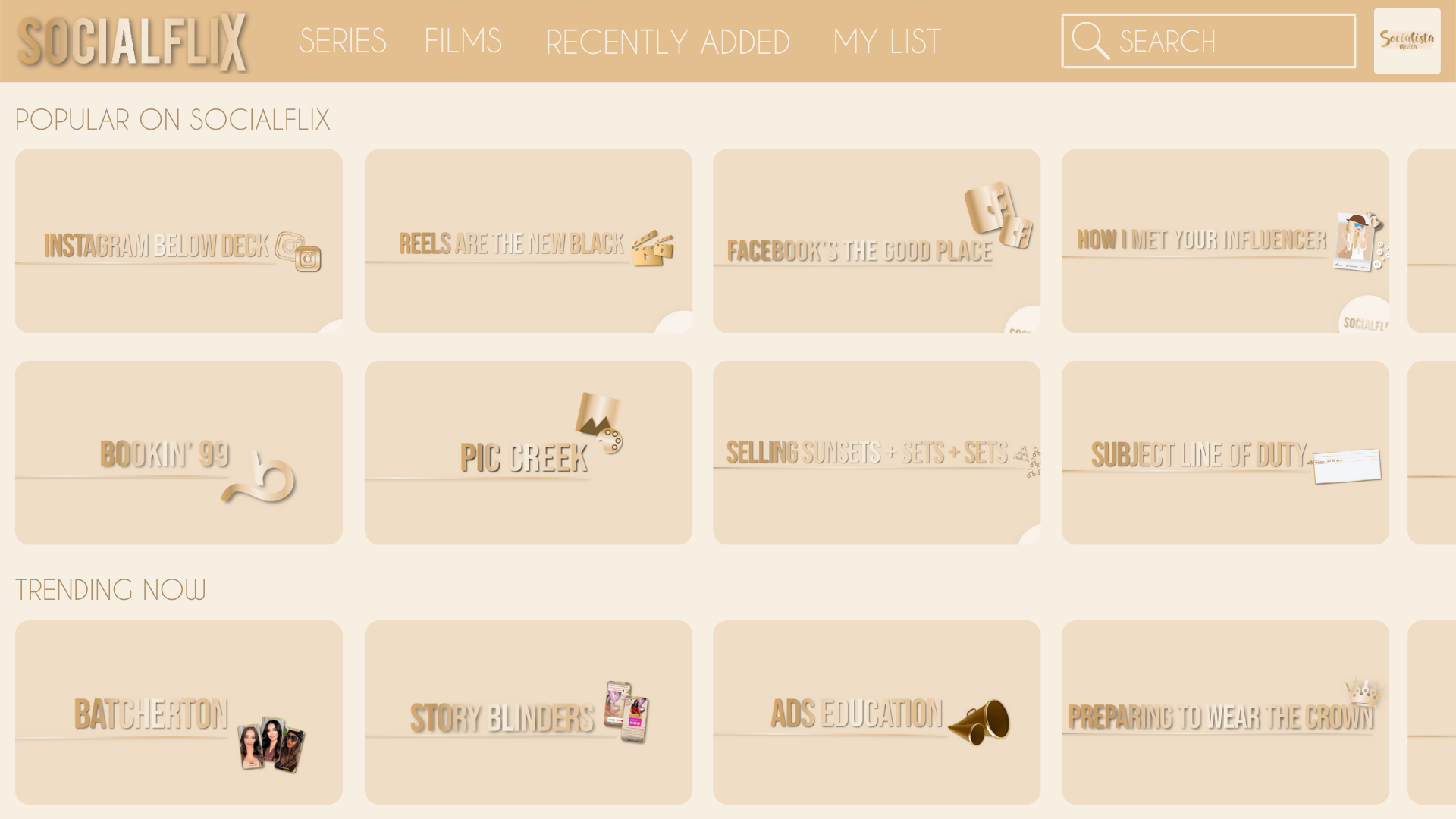 🎬 Boss your business with the most binge worthy box set online🍿
🎥 Sick and tired of watching your biz mistakes on repeat?
🎥 Wish you could hit fast forward and skip to great engagement + more followers?
🎥 Wanna head straight to the spoilers and see your future biz bank balance in 6-figures?
Then you need to tune into SocialFlix and get your fix!
You were born to be a biz A-lister, but instead you're…
📺 Settling for the D-list status when it comes to showing up social
📺 Missing out on being a best seller because your copy reads like the end credits
📺 Skipping out of red carpet opportunities because you don't like a thing about promoting yourself...
Ok, sister. Let me be your agent!
I've grabbed my walk-of-fame besties, my most popular masterclasses and a bunch of 'newly added' trainings to create the most binge worthy biz box set you've ever seen.
If you're ready to go from budget to blockbuster, no-name to Netflix fame… then this series is a sale made for you!
SocialFlix
Directed & Produced by Socialista Media
🎬 Boss your business with the most binge worthy box set online🍿
Today's the day you claim the award for...
🏆 Most highly watched reels, stories and masterclasses
🏆Most insane content bank of ready to go posts + pics
🏆 Most clued up on PR, finances, influencers and so much more!
And here's how you're going to get to work on your nomination, super star!
🎞️ NOW SCREENING...
Reels Are The New Black 🍊
Creating EPIC Instagram Reels
Pic's Creek 🚣‍♀️
How to take the perfect photos for your feed
Selling Sunsets + Sets + Sets 🌆
Nail your network marketing
Subject Line Of Duty 🚔
Starring Ayse of Surge Social
Email Marketing Expert Training
Ads Education 🍆
Starring Ayse of Surge Social
Facebook Ads Expert Training
Facebook's The Good Place 💬
Starring Ayse of Surge Social
How to run the perfect Facebook community
Sons of Sales-copy 🏍️
Starring Stephanie of By The Way Creative
Writing sales copy for Instagram that converts
Preparing to wear The Crown 👑
How to set goals and achieve them ASAP
Batcherton 📱
Batch creating content so you never run out
 Instagram Below Deck ⛵
How to keep up with the Instagram algorithm
Story Blinders 🥧
Creating awesome Instagram stories
When They See You (And they LOVE you!) 🔦
How to build followers + engagement
How I Met Your Influencer 👫
Using influencers to boost your brand
Bookin' 99 🚨
Using the Booksy booking software
Queen of the Word of Mouth 🗣
Starring Jen of Moda PR
Building the know, like & trust factor with different forms of PR
How's THAT for a line up?
✨ If you've ever felt social media overwhelm then this is the answer you've been looking for
✨ If you have ever felt you needed social media management then this will help you overcome that feeing
It's time to step into the social spotlight and claim your place on the red carpet.
From award winning accountancy skills, to ads that attract dream roles… all you've got to do is throw on your onesie, grab a rose and SocialFlix and chill!
Your investment….
£997 + VAT
Yes, you read that right… that's an 18 hit series for UNDER £1000! 
Ready to SocialFlix + Chill?
Choose your payment option:
...oh we ALMOST forget to mention, there's a BONUS clip or three at the end! (and they could give you an alternative ending 😉)
1️⃣ How To Get Away With Hashtags
Expert Hashtag Training - Take your hashtag strategy from crime scene to being SEEN!
2️⃣ Instagram's Next Top Model
30 poses for feed fash-un!
3️⃣ Million Dollar Baby 
Expert Accountancy Training
How to get your finances on fleek!
Take a sneak peak inside...
FAQS'S
[I HAVE BEAUTY BOSS SOCIAL SCHOOL, DO I NEED THIS?]
If you've purchased BBSS, you do not need to purchase the entirety of SocialFlix.
[HOW LONG WILL I HAVE ACCESS?]
Access is lifetime! You can download your workbooks to keep too! Access to Members Squad is for one year.
[HOW DO I KNOW THIS IS RIGHT FOR ME?]
If you're an online business owner, or you're pivoting your biz online, then SocialFlix is going to help you take it to the next level.
[WHAT DO I NEED TO GET STARTED?]
Simply hit the button below, enter your details and get INSTANT access to your modules.
Ready to say bye forever to social media overwhelm?
Choose your payment option + get instant access to the answer to your social media prayers!