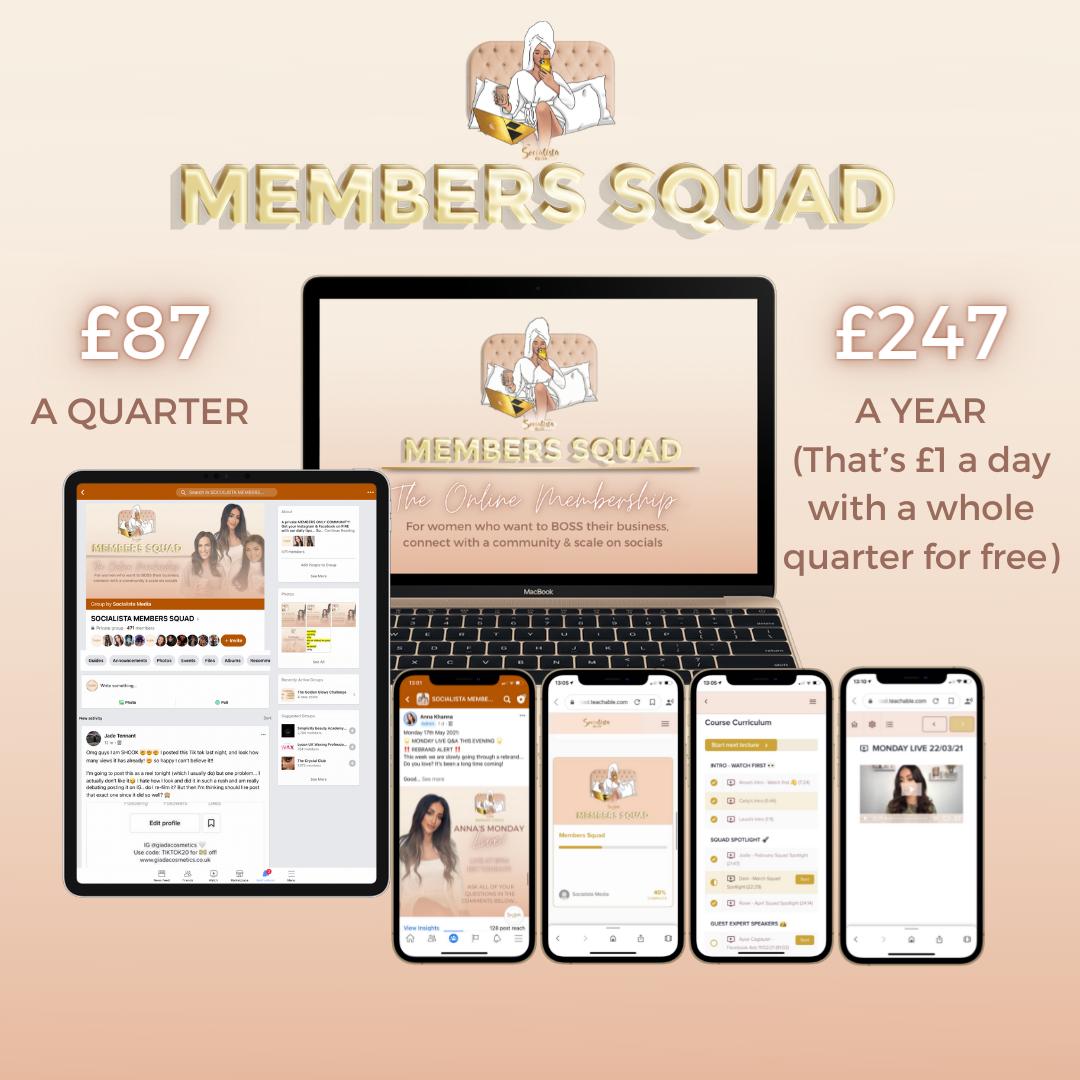 Socialista Member's Squad:
THE online membership for women who want to boss their business, connect with a community & scale on socials.
You didn't start your biz to feel…
… Lonely as hell (& drowning your sorrows with a rosé in the bath) 🧖‍♀️
… Confused about your cash flow (& finishing a bar of Galaxy to cope) 🍫
… Stressed-out over a lack of enquiries (& crashin' on the sofa in front of KUWTK!) *sob!* 🛋️
Sip, choc & crash no more.
Your Members Squad of besties & biz boosting bonuses is here!
Socialista Member's Squad:
The boss-night-in that gets bigger & better everytime!
Your no filter, fully-loaded online membership for less than £1 a day!
Here's what's inside👇
Monday: Weekly Sales & Strategy Call with Anna
Ask Anna anything & get the low down on Socialista's SALES & STRATEGY! Get more sales via your call to actions, content & DMs & strategise your whole sales calendar to ensure sales consistently enter your biz!
Tuesday: Top Tip Tuesday & an Engagement Thread
Get the most current tips on trends with weekly top-tips from Team Socialista. Elevate your engagement with your easy to access engagement thread!
Wednesday: Carly's live IG Analysis
Grab a chance to get your IG bio, aesthetic & feed analysed by our in-house expert, Carly, every single week.
Thursday: Biz Tip & a Brew
Bitesize business trainings. When Team Socialista learns, you learn too! Whatever's hot and happening, it's available to you straight from our HQ!
Friday: Canva editable template drop
Cute Canva graphics aren't always easy to come by. But when you're in our circle, we make sure you've got the cutest customisable Canva templates to curate your feed & end your week on a high!
Saturday: Biz Tip & a Brew
Biz tip & a brew? What a way to start your Saturday!
Sunday: Engagement Thread
Got a post that didn't pop this week? Mention it to your members' squad pals & power it up!
Monthly Guest Speakers:
Lawyers, accountants, marketing experts & more, chillin' on the couch with you? All included, month on month.
Monthly Content Masterclass:
No more getting stuck on what to create this month. Our monthly content masterclasses give you the scoop on keeping your content current & cute.
Your Private Portal:
Busy bossing it when Team Socialista go live? No worries! Grab a brew & we'll come to you, all inside your access anytime portal.
Private FB Group:
Get chatting, collaborating & creating with your fellow members in our private Facebook community. Got Q's? Team Socialista will be jumping in to answer anything you need on the regular - RIP overwhelm!
Exclusive BTS details on Socialista's next launches:
Shhhh! You'll get the scoop when we're scaling up the Socialista offer suite! Plus exclusive member's only content.
That's a crazy 10+ hours of video training per month, PLUS your private community, regular tips & templates!
The cosiest club for the most bossin' business builders on the block.
I'm inviting you to join me for selling-out from the sofa 🙌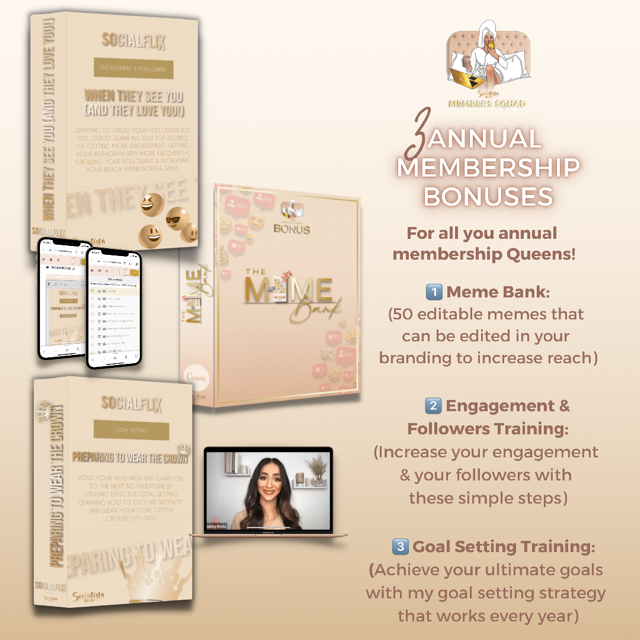 Annual Bonuses:
For all your annual membership Queens!
1️⃣ Meme Bank: (50 editable memes that 
can be edited in your branding to increase reach)
2️⃣ Engagement & Followers Training:
(Increase your engagement & your followers with 
these simple steps)
3️⃣ Goal Setting Training: (Achieve your ultimate goals with my goal setting strategy that works every year)
Listen, biz babes.
  Starting your own business ain't easy… but why are you making it harder for yourself? Stop struggling alone when I'm literally inviting you into my home - joggers, messy bun & all. There's no filters here, friends. Just the real deal.
So put the kettle on. It's time to brew your biz better...
Review - PT
Members squad is LIFE!
In 5 months I have gone from basic bish,to BOSSING my biz & it's all thanks to squad. Every question I have ever asked has been answered quickly & the advice is
top quality.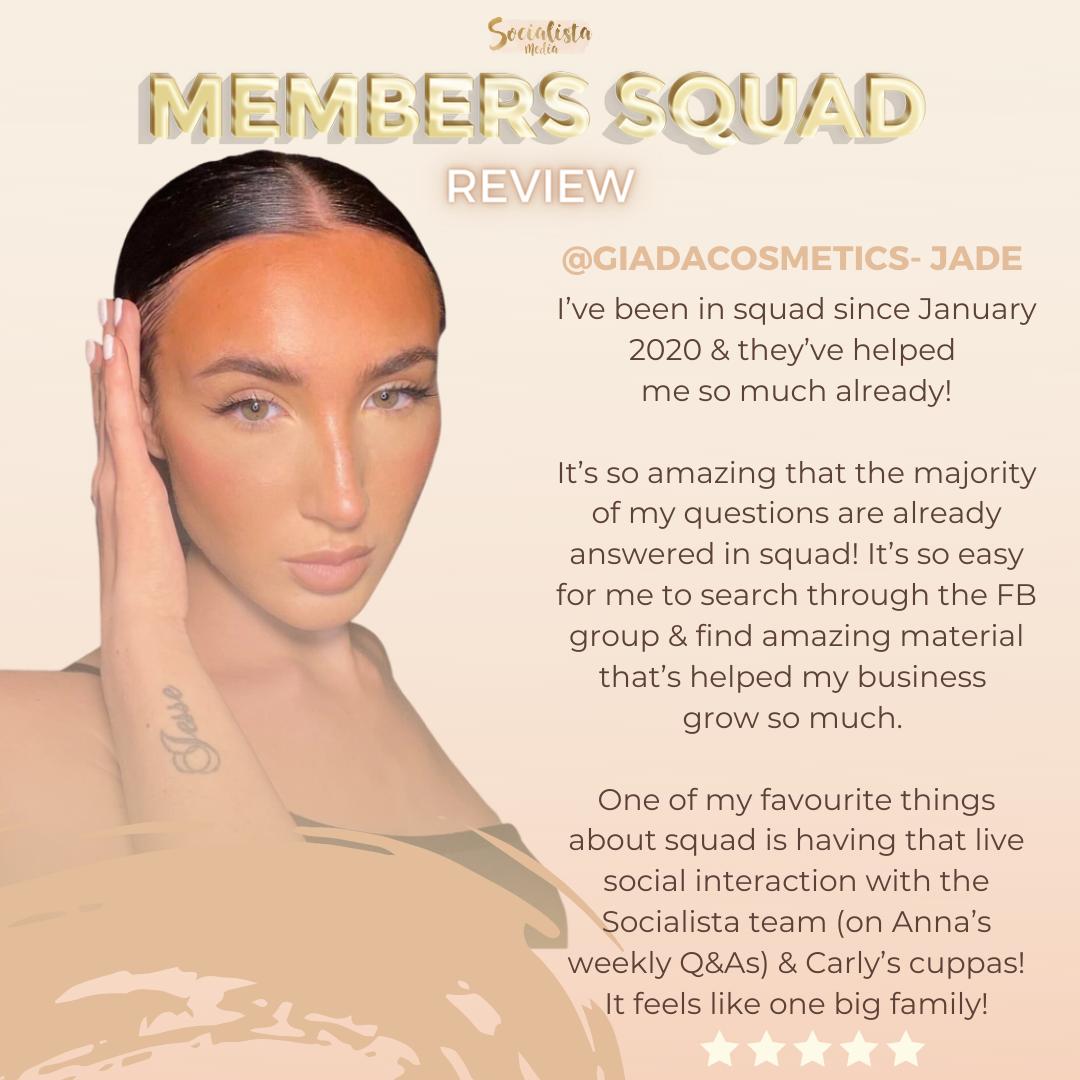 Review - Cosmetics
It's so amazing that the majority of my questions are already answered in squad! It's so easy for me to search through the FB group & find amazing material that's helped my business
grow so much.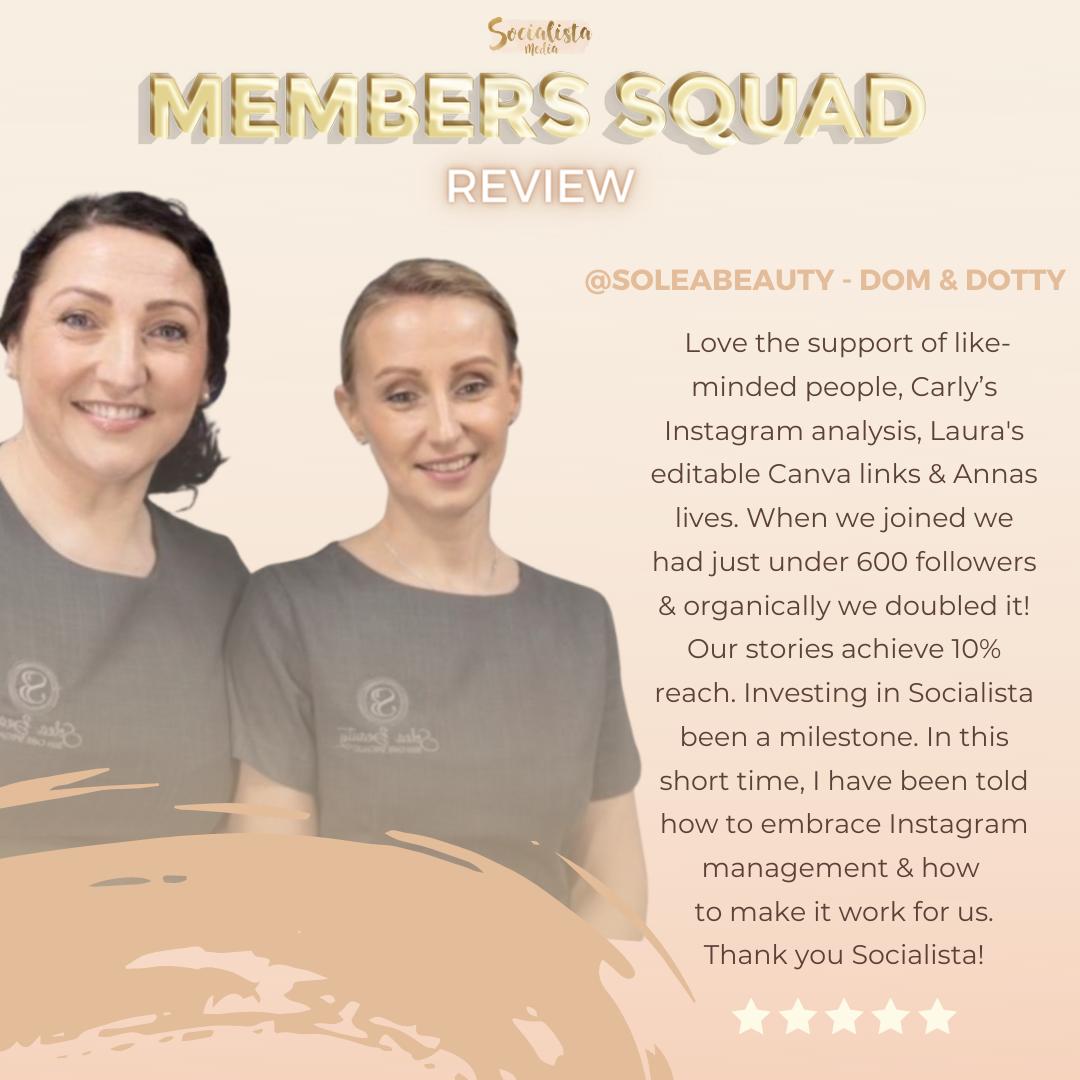 Review - Salon
Love the support of like-minded people, Carly's Instagram analysis, Laura's editable Canva links & Annas lives. When we joined we had just under 600 followers & organically we doubled it! Investing in Socialista been a milestone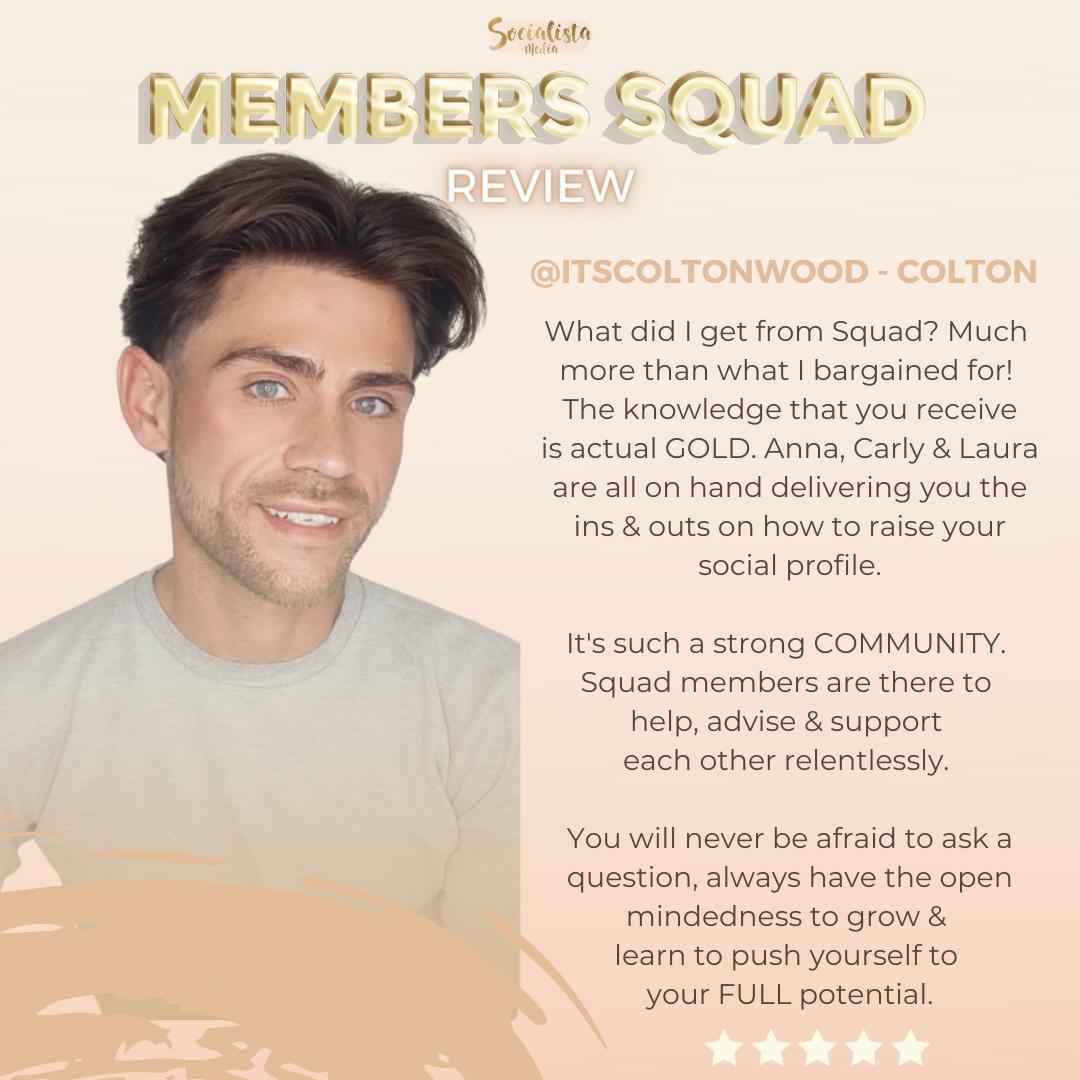 Review - Content Creator
The knowledge that you receive
is actual GOLD. Anna, Carly & Laura are all on hand delivering how to raise your social profile. It's such a strong COMMUNITY.
Squad members are there to
help, advise & support
each other relentlessly.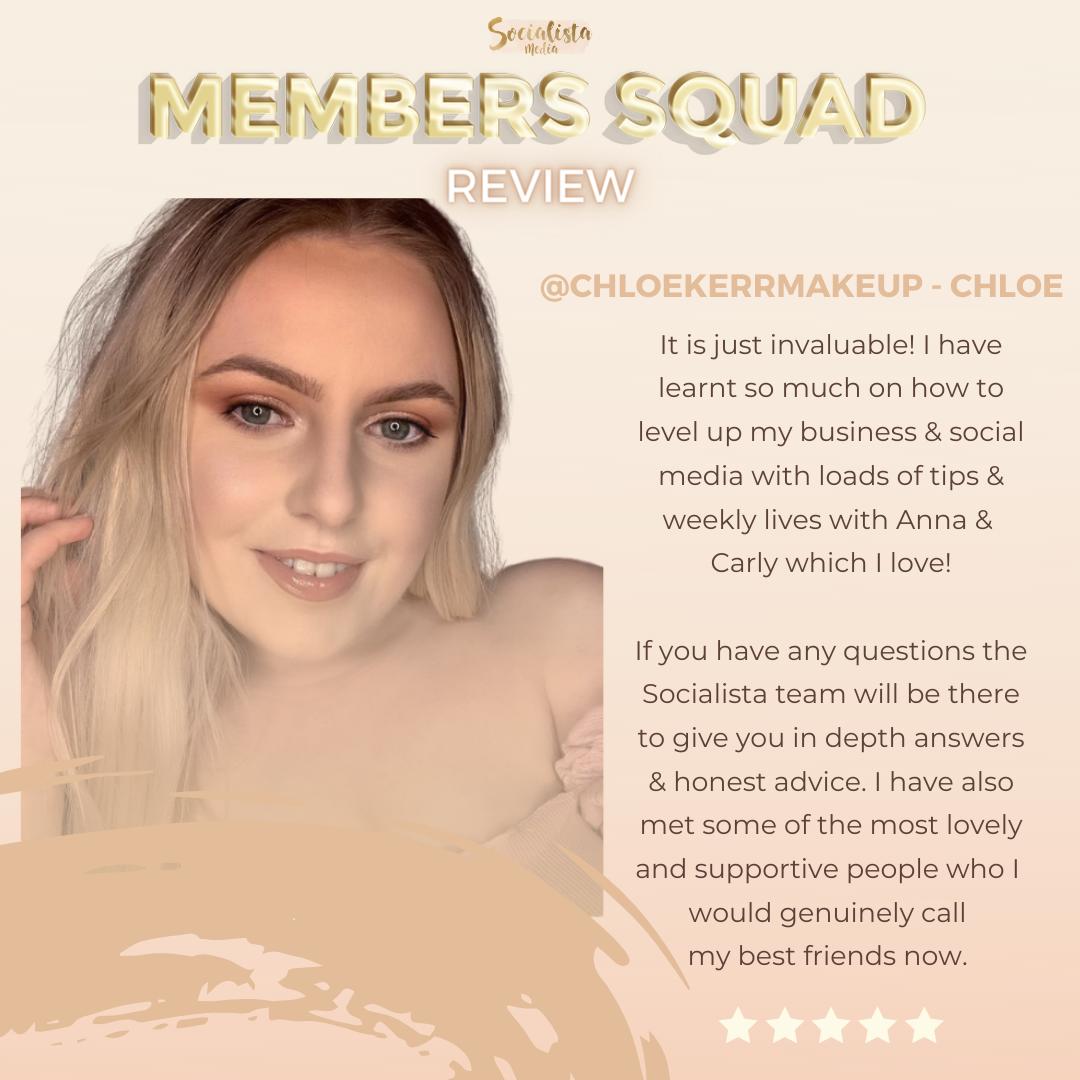 Review - MUA
It is just invaluable! I have learnt so much on how to level up my business & social media with loads of tips & weekly lives with Anna & Carly which I love! The Socialista team will always be there to give you honest in depth advice, I have also met the lovliest people.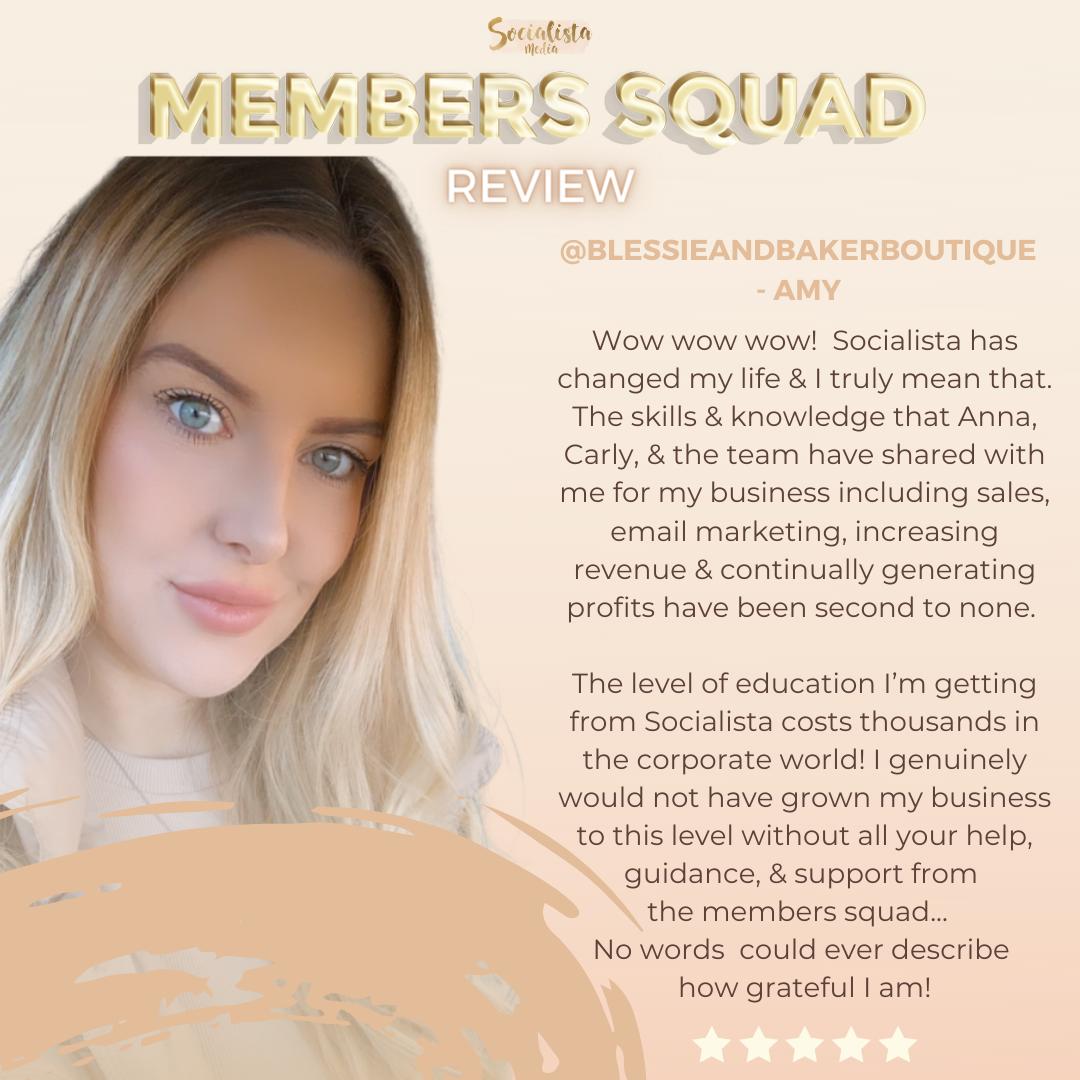 Review - Boutique
Wow wow wow! Socialista has changed my life & I truly mean that. The skills & knowledge that the team have shared with me for my business including sales, email marketing, increasing revenue & continually generating profits have been second to none. I genuinely would not have grown my business to this level.
Grateful!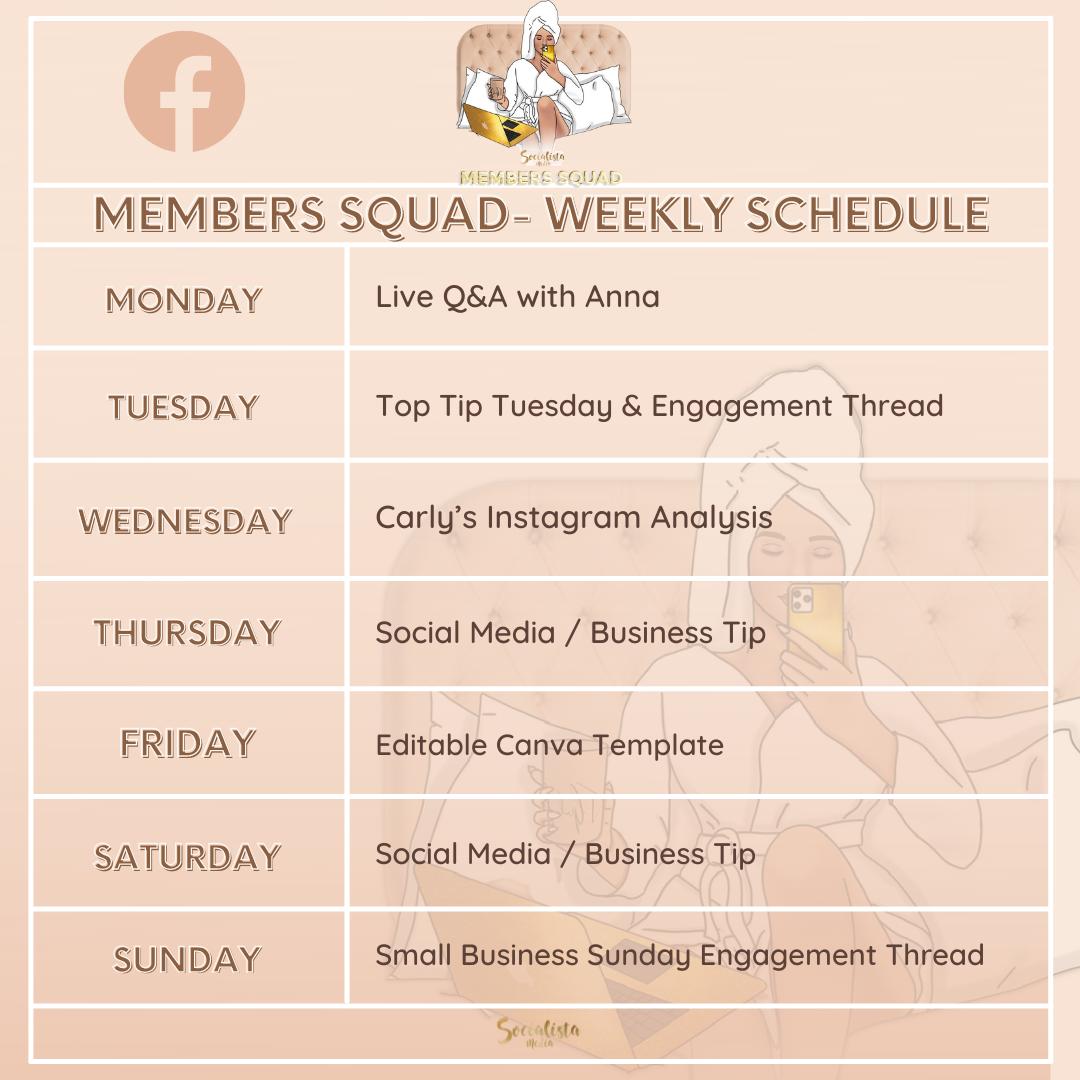 HOW LONG WILL I HAVE ACCESS?
You have access for as long as you've paid for. If you pay for a whole year, you're in for a year! Otherwise you can renew your membership every quarter to grab the next delicious content drop!
HOW DO I KNOW THIS IS RIGHT FOR ME?
If you're starting your biz, or you've hit a bump in the road, need more motivation or simply want more from your business... Member's Squad is designed to get you back on track with cash-calling content, audience building activities & biz boosting tips on the regular. So, if you want to grow your business, this is where you need to be.
WHAT IF I CAN'T MAKE ALL THE LIVE CALLS & TRAININGS?
Absolutely everything we film or stream for Member's Squad is added to your private portal, meaning you can grab the goss at any time that suits you.
WHAT DO I NEED TO GET STARTED?
Simply choose your payment plan… & sign up!
WHATS THE WEEKLY SCHEDULE?
The schedule is the image on the left!